Do you plan to buy an older home because it has character or as an investment? In either case, make sure you pay attention to the type of wiring. Nancy Arndt, personal lines senior underwriter, will explain the problems with old wiring.
Many homes that were built before 1950, and go as far back as the 1800s, have what's known as knob and tube wiring. Knob and tube wiring consists of porcelain knobs with old-style wiring that was wrapped around it as it runs through the joists, floor boards, and walls. The wiring consists of one hot wire and one neutral wire and has a thick insulation coating around it.Problems with this old style of wiring:
Back in those days, wiring was designed to carry very small currents as electricity was used mainly for lighting. Today we use much more electricity with many electronic devices and appliances plugged into outlets. The old knob and tube wiring isn't sufficient anymore. It doesn't adequately supply enough electricity to the home and it can pose a significant fire hazard when overloaded.
It also doesn't have a ground wire to protect the home and its appliances during a lightning strike.
If rolled or loose-blown insulation has been added to the home, it could be covering the wiring. There must be three inches of space between the live wire and any flammables.
There may have been newly-installed light fixtures or ceiling fans and the newer Romex wiring could be spliced into the knob and tube wiring. These lines, however, weren't designed for system additions and all of this could significantly increase the risk of fire.
The wiring could have outdated fuse boxes for main disconnects.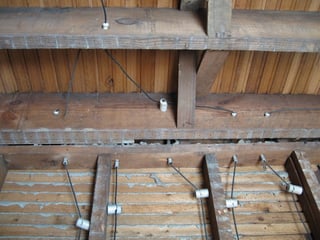 (Source: Wikipedia)
https://en.wikipedia.org/wiki/Knob-and-tube_wiring
Be sure to look in the basement and/or attic and check the fuse box in the home. If you plan to buy the home, but see any knob and tube wiring or an outdated electrical fuse box, you should consider having it updated immediately.
Contact your independent agent to find the right insurance company to insure your home. Many insurance companies have restrictions on this type of electrical system and you could have a problem finding a company that will insure your home.
Do you have any tips you'd like to share? I'd love to hear them; please share them in the box below.