Blog Courtesy of West Bend Insurance Company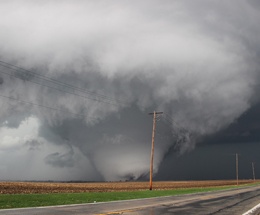 In the early morning hours of April 4, 1981, a F4 tornado unexpectedly struck West Bend, Wisconsin. The tornado caused 3 fatalities, 53 injuries and $25 million in damages. Unfortunately, the National Weather Service only issued a severe thunderstorm warning so the tornado sirens never sounded. The storm that produced the tornado didn't display typical characteristics.
Thirty-six years later, technology has significantly improved, allowing for more accurate forecasting. The invention of smartphones also allows us to receive weather information 24/7. But what if you're on vacation or your smartphone is dead and you miss the weather alert? Here are some basic things you should know.Where tornadoes occur: Tornadoes can occur all over the world. Unfortunately, the U.S. experiences the highest concentration of tornadoes each year at 1,200. Argentina and Bangladesh also see a significant number of tornadoes.
When tornadoes occur: Tornadoes can occur at any time of the year. The tornado peak season depends on where you live. Here's a breakdown by region.
| | |
| --- | --- |
| Location | Peak Season |
|  Southern Plains |  May – June |
|  Gulf Coast |  March – June |
|  Southern States |  March – May |
|  Northern Plains |  June – July |
|  Northern States |  June – July |
| Upper Midwest | June – July |
Tornadoes can occur 24/7; however, they usually occur between 4:00 and 9:00pm.
Warning signs of a tornado: While technology saves lives by providing more accurate forecasts and timely alerts, Mother Nature also provides signs before a tornado strikes. Watch for:
Green sky/clouds
Hail
Flying debris
Low-lying cloud with a rotation
Stillness and quiet
The sound of a freight train coming toward your neighborhood
Keeping your family safe through education is the goal of West Bend Cares. Here are some valuable resources that can help you plan and stay safe as storm season approaches.
Tornado safety tips before, during, and after the storm
Severe weather definitions
NOAA: What's a watch?
How do tornadoes form?
Protect your family from identity theft after a tornado
Is your family prepared for a power outage?
Do you have any tips you'd like to share? I'd love to hear them. Please share them in the box below.
Sources:
http://www.nssl.noaa.gov/education/svrwx101/tornadoes/
https://en.wikipedia.org/wiki/1981_West_Bend_tornado
http://www.mnn.com/family/protection-safety/stories/when-is-tornado-season